Portable Instruments
Designing, manufacturing and commercialising measuring instruments has been our core business for more than a century, allowing professionals to check and test the reliability, safety and efficiency of electrical distribution systems and the equipment connected to them, on a daily basis.
CHAUVIN ARNOUX provides its customers with products which meet its commitments and comply with both the national and international standards, particularly in terms of safety.

Power & Energy Loggers
PEL100 series Power and Energy loggers provide a complete solution to measuring and identifying energy consumption in any industry, they can be used handsfree, remotely without interruption to the mains power. The logger tracks even the slightest consumption in an electrical network, providing all Power and Energy measurement recording on the internal 2GB SD card, while simultaneously permitting real-time monitoring on its backlit 4 line LCD display. Recordings are time/date stamped for ease of comparing measured gains achieved before and after installation modification. Easily transfer recorded data to a PC via the free PEL data transfer software and SD card with USB adaptor (included).
Designed to fit inside most electrical cabinets thanks to its magnetic base or hook for easy mounting.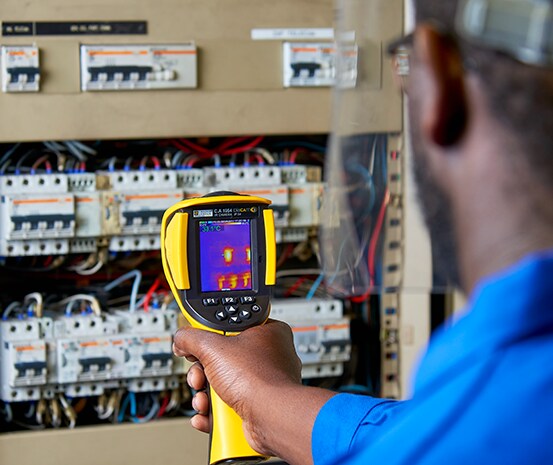 Thermal camera
DIACAM 2 is a high performance thermal camera making it simple to perform thermal inspections for energy audits, ensuring trouble-free industrial, electrical or mechanical maintenance.
The wide 2.8-inch screen with auto brightness adjustment provides comfortable reading with a field of view of 38° x 28° and the camera is focus-free. A built-in sliding cover protects the highly sensitive lens.
Contextual help guides users step-by-step, limiting the risk of errors. Particularly rugged, with IP54 ingress protection, the camera can withstand falls from 2 metres.
Shop the range